---
Bellingham Business Directory


The City of Bellingham was officially incorporated on November 4, 1903. It was the result of the consolidation of four towns initially situated around Bellingham Bay: Whatcom, Sehome, Bellingham, and Fairhaven. Thus, the history of Bellingham begins with the history of each of these settlements. - History of Bellingham, Washington - Wikipedia


An article about an adeventure to Bellingham: Our adventure a week before this one seemed to usher in spring with blue skies and green buds. Evidently, spring didn't extend up I-5 to Bellingham. I did not enjoy driving over one hundred miles in the driving rain. The only adventure with worse weather was when Peg and I had to drive the winding roads on Cape Cod in the early morning through heavy rain and wind to make our return flight out of Boston. I hated the drive then, I hated this one as well. Luckily, we had a great time in West Dennis and we had a great time in Bellingham. Click Here to enjoy the article!





Different Levels of Customer Service - Article published in The Suburban Times by Patrick Doman - Patrick Doman is an IT expert who began his IT career at MG2 (then Mulvaney Partnership) in Bellevue and is continuing his growth and expertise at American Fast Freight in Fife. Knowing that Cusomer Service is for fellow team members as well as actual customers is the essence of making everyone happy and productive. Patrick started learning Customer Service in the family business. Click Here to enjoy the article!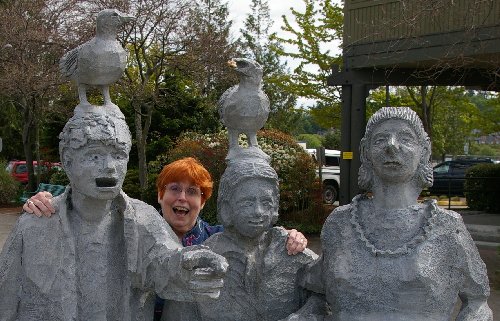 Northwest Adventures is a website exploring the Pacific Northwest. "We enjoy meeting people and we expect to have a wonderful time when we travel. Our expectations are almost always met. If you have a favorite restaurant or a favorite hotel, where they offer exceptional service, please, share your favorites with us. Or if you have a B&B, hotel, or restaurant that you would like us to try and then include in our stories tell about what you have. No matter what, enjoy, and please share your thoughts." - trainingmedia@yahoo.com

Seattle Theatre Today has information on King County's (and more) main live theater production houses . . . and more. If you enjoy excellent live theater, then visit the site to see what your live entertainment choices are.
ABNB Puyallup Apartment - Close to EVERYTHING. This 1200 sq ft apartment is in the heart of downtown in a historic landmark building built in 1903. It has all the updated comforts of home, while you get to enjoy the city life. You have your own family space complete with a living area to cozy up on the couch watching a 50" HD Smart TV, a great dining space to enjoy a meal ordered in or what you whipped up yourself in the kitchen (we provide many food items for your convenience), or sleep-in resting in the comfy beds!


This apartment is designed as a home away from home. The kitchen is well stocked and there is a friendly dining area as well. Coffee, breakfast, lunch and dinner at home or visit the friendly merchants in the area. Prices in friendly Puyallup are very affordable.












Seattle Song Writer Daniel D. Howell - Meet Seattle song writer Daniel Howell. He loves the Pacific Northwest, Puget Sound, and Western Washington. He grew up in Seattle. For many years he and his brother would buy Seahawk tickets and then his brother moved with his family to Texas. Daniel wrote Get Back Home for his brother and their mother who passed away last year. Everyone loves the song. Read the article and watch the video. Share it with friends . . . especially those who live far away and you want to make jealous.


















Seattle Accountants Nth Degree CPAs - What if you had a financial expert helping you optimize your business and family financial situation all year long? Would your business be more profitable? Would you have fewer late nights? Would you feel a greater sense of control? Would you have more time to focus on other areas of your business? Would you reach your goals faster? Nth Degree CPAs, can help. READY TO GET STARTED? GET IN TOUCH TODAY! Call 206-682-0281.












Commercial Real Estate Appraisals Seattle - From evaluating estate property to raw land for commercial development, we can help with appraising as well as services for Market Analysis, Property Marketability, Feasibility and Highest and Best Use. We provide Washington State with expert commercial property appraisal services. We have an excellent history of long-time commercial appraisals across the state. We offer quality work and excellent prices with quick turn around times. Give us a call at 253-564-1342 or visit our website for more information.












HVAC & Furnace Installation, Repair & Maintenance - Seattle - What's Your Heating and Cooling Problem? Furnace Doctors Can Cure Them All! HVAC contractor, John Day and his Furnace Doctors, have been fixing heat pumps, furnaces and air conditioners for years. John says, "We've seen it all! We are a full -service heating and cooling company - there is NOTHING we cannot work on. We service, install and maintain all HVAC systems including all major brands of heating and cooling equipment."












Jim Cissell - the Voice Guy! - Narration voice over talent, Jim Cissell, "master of the long form," has voiced 1000's of videos and websites--for nearly half the Fortune 500--like GE and FedEx. Jim is one of the top male voice-over and on-camera talents in North America. Jim has won 100's of national awards and voiced 1000's of commercials, documentaries, TV shows, feature films, videos, and websites for nearly half the Fortune 500--like GE, FedEx, Georgia Pacific, FLIR and several states. His waterfront recording studio is the best in the business. According to Expertise, Jim's one of the top 9 voice actors in Seattle--top 4 without the 2 studios and 3 talent agencies. - Check out his latest work at Recent Trends


















New Visitors To Your Website Every Single Month - For a one time set-up fee of $350 and $150 per month we market your service/product website locally that delivers twice the number of potential customers over what you would have from Google AdWords. Why pay $3 or $4 per click on Google AdWords when you can get a bigger bang for your buck? The fees keep escalating on Google AdWords, but our monthly fee has stayed the same now for two years. We do everything for you: deliver great reviews, directory listings, search engine placement, online ads and banners . . . and much, much more. Call 253-759-6639. Visit our website to see the extent of our marketing, which includes a commerical video designed to bring prospective customers to you.












Healthy Aging Diets - Chocolate & Vanilla Shakes - Lean Protein Weight Loss Formula Seattle - Healthy Aging Diet's Lean Protein Weight Loss Formula is a powdered nutritional beverage that provides both macro and micronutrients for individuals who want to improve body composition and lose or maintain weight. Features specialty nutrients to help promote blood sugar control and efficient fat metabolism.
High-quality whey protein base, 100% casein free.
Assists in healthy blood sugar metabolism and available in chocolate & vanilla.
Each serving provides a multivitamin and mineral core, plus a high dose of chromuim, phaseolamin, guar gum, and green tea extract.
For more information call 253-858-2408 or visit us online, watch our videos, and read our testimonials.












Construction Debris and Recycling - Dumpster Rentals - SW Washington - Our business is picking up. We are a full service recycling company, providing services throughout the South Puget Sound region, including the cities of Aberdeen, Olympia, and Centralia. We can help you in Grays Harbor, Lewis, and Thurston counties as well as other areas of the South Puget Sound. Contact Us for immediately help: 360-280-7305.












Editing is the process of pouring over books and articles and making them more understandable and free of errors and miscommication. Call Peggy of Will Write Well for Good Money at 253-759-6639. During the pandemic era many people have written of their experiences and their viewpoints. The editing process involves correction, condensation, organisation, and suggestions to help your creation more easily understandable. Peggy is the author of three published books as well as scripts and articles. Modifications are performed with an intention of producing a correct, consistent, accurate and complete piece of work for your audience AND to help you sell your work. The editing process starts with the author's vision and continues as collaboration between the author and the editor. Editing involves creative skills, human relations and a definite feeling for each individual writer's work. Peggy has edited hundreds of articles and dozens of books.
Chocolate Yellow Silver Black Labrador Puppies For Sale - Cassandra & Jonathan Day love their family of dogs. The dogs and puppies are part of the family. They breed their dogs and pass them along to happy families in Washington State. It is a haven for all kinds of Labradors & Olde English Bulldogges. At Circle B Ranch they pride ourselves in producing the highest quality animals with the best temperaments as possible. They have long been involved with training and breeding horses, cows and dogs. Their family loves both Labradors as well as Olde English Bulldogges and the love is mutual. They breed Labrador Retrievers that are as easily family pets as well as great for working, field trial and hunting partners. Take a look at their Puppy Gallery. Owners are always happy to share photographs of the new members of their own families.












Reviews of Hotels, Restaurants, Theatres, and Great Vacation Spots in the Pacific Northwest - From Portland to Bellingham there are great places to vacation and enjoy yourself. If you only have a couple of days and are looking for a short adventure, then we have many suggestions. We write about our own adventures to Northwest cities like: Tacoma, Seattle, Mukilteo, Victoria and Portland. We stay at hotels or bed & breakfasts. We visit museums, restaurants, and fun places to shop and look around.












Northwest Adventures and Vacation BLOG by authors Don and Peggy Doman - The Pacific Northwest is a great place to spend a vacation. If you only have a couple of days and are looking for a short adventure, then we have many suggestions. We write about our own adventures to Northwest cities like: Tacoma, Seattle, Mukilteo, Victoria and Portland. We stay at hotels or bed & breakfasts. We visit museums, restaurants, and fun places to shop and look around.






Bellingham Business Directory Questions
Bellingham Business Directory, Bellingham Business Register, Bellingham Business list, Bellingham Business Directory Bellingham washington wa.